The Blues Restaurant

Scotland's first football stadium and hotel complex, The Park Hotel is situated next to Rugby Park, the home of Kilmarnock FC. This modern four-star establishment sets new standards in comfort and customer service. The large, glass-fronted building is Ayrshire's preeminent hotel and hospitality centre, serving as the base for short breaks, golf holidays and romantic weekends. 50 king-sized bedrooms are equipped with a host of plush amenities, while a large conference centre cares for business guests. With free parking for 300 cars, the hotel has swiftly become Kilmarnock's premier business centre. Guests of the hotel can enjoy complimentary use of the fitness centre and free Wi-Fi. Suites at The Park Hotel are spacious and welcoming, all king-size and each one featuring deluxe toiletries, 37 inch HD TV's and Freesat. Easy access rooms cater for guests with wheelchairs or those who simply desire additional space. Blues Restaurant & Bistro, housed within the hotel, is the place to experience fine Scottish cuisine, made using many of the excellent raw ingredients for which Ayrshire is renowned. The hotel's award-winning chefs serve up rich, appetising fare from breakfast through to dinner. Daily specials are available along our Supper Menu, Match Day Menu and Sunday Brunch offers. For guests who desire additional privacy, the hotel offers the Moffat Terrace on the mezzanine, accessed by a bridge overlooking the foyer and cocktail bar. The Park Hotel also has two additional suites where up to 40 guests can dine in comfort and privacy. For larger banquets there are a further three suites which can accommodate up to 400 guests. For further information follow us on Facebook or check our website for menus and special offers.
---
Offers & Promotions
Offer valid between 01-01-2017 and 30-09-2017
"MONDAY – Pizza Promo – Pick a Pizza & 1 side only £9 TUESDAY – Fish Tea – Fish Supper only £10 WEDNESDAY – Burger & Pint – Any Blues Burger and a pint of Stella only £10 THURSDAY – Pensioner Privileges – 20% off all menus all day FRIDAY – Sharer Date Night – 1 starter, 2 mains, 1 dessert, bottle of wine, only £40 SUNDAY – Sunday Roast – 12noon to 9pm, only £12.95 See the events page on the Park Hotel website or contact for further information: 01563 545 999 enquiries@theparkhotelayrshire.co.uk www.theparkhotelayrshire.co.uk"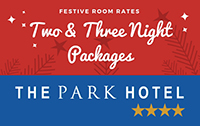 Find More Offers & Promotions