Old Jameson Distillery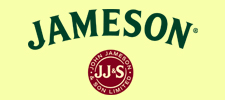 Relive the story of John Jameson and Son through the history, the atmosphere and above all the taste. You will discover the time honoured secret of how three simple ingredients, water, barley and yeast, are transformed into the smooth golden spirit that has always been and continues to be Jameson Irish Whiskey.

All guests are rewarded with a signature Jameson drink and lucky volunteers are selected to participate in a tutored whiskey comparison and earn a much coveted personalised Whiskey Taster Certificate. After the tour enjoy lunch in the 3rd Still Restaurant, sample some Jameson cocktails in JJ's bar or browse the distillery shop for some exclusive Jameson gifts.
---
Offers & Promotions
There are currently no offers or promotions for Old Jameson Distillery
Find More Offers & Promotions