QT Injectibles

QT Injectables offers a range of non-surgical treatments, giving a helping hand to increase patients' confidence. Aesthetics is all about applying minor tweaks to create beautifully subtle but outstanding results, balancing the proportions of the face, and reversing the signs of ageing. QT's therapists are trained to advanced levels for administering fillers and botulinum toxin (b'tox) with 30 years of combined experience and ongoing up to date training. Backed by medics and insured, QT Injectables always adheres to current legislation. Anti-wrinkle procedures target forehead lines, frown lines, crows feet, bunny lines, hyperhidrosis of the underarm/soles/palms. Try a brow lift, gummy smile or Neferitti (neck lift). Or opt for fantastic fillers, suitable for lips, cupids bow, cheeks, forehead lines, the nasolabial area, the jawline, tear trough, chin, or for smoker's lines. Find QT in the Gold Lounge, or see their Facebook page for details of clinics in other salons.
---
Offers & Promotions
Offer valid between 10-04-2019 and 31-05-2019
We are looking for models for advanced aesthetics at a reduced rate. Models must be willing to have photos taken for social media. Treatments include: Nefertiti (jaw and neck lift), Hyperhidrosis (underarm sweating), Gummy Smile correction, HD Cheeks, Nasolabial (nose to mouth lines), Marionettes (mouth to chin lines), Tear Trough, Jaw and chin sculpting, Frown lines. Model prices will end on 31st of May.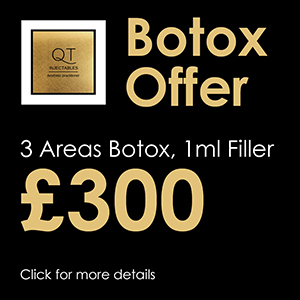 Find More Offers & Promotions