Cheynes Hairdressing

'Edinburgh's Original Student Salon'. Cheynes Hairdressing have always believed in supporting the Student population in Edinburgh. We have been Edinburgh's 'Original Student Salon' since 1976. Our fine city has an enviable reputation for offering the highest levels of University and College education and we at Cheynes have an unparalleled reputation in offering the highest level of hairdressing excellence. When a new student arrives in the city, it is the beginning of a great new adventure and selecting the right hairdresser is a crucial part of that experience. At Cheynes, you will find superbly trained and highly motivated hairdressers. We work hard to create a friendly, happy, and professional environment where your needs will always come first. We also offer some great discounts of up to 30% off our regular prices, to help you have fabulous hair throughout your student years. We look forward to being your hairdressers of choice now and in the years to come!
---
Offers & Promotions
Offer valid between 01-04-2017 and 30-09-2017
UP TO 30% OFF STUDENT DISCOUNT! Valid student ID required, terms apply.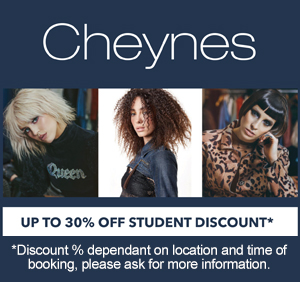 Find More Offers & Promotions