About Face

If you're wondering what 'About Face' is about, it's all in the name. Based in Glasgow, the clinic is one of the best in Scotland's when it comes to facial beauty; whether you're concerned about wrinkles, asymmetry or skin texture, head to About Face to enjoy a complete makeover. The clinic specialises in electrolysis, the only medically-approved method of permanently removing hair; electrolysis at About Face can be used for areas such as the cheeks, eyebrows and upper lip to remove unwanted hair for good. Alternatively, the clinic also offers waxing, laser hair removal and microdermabrasion, as well as Advanced Electrolysis for the removal of blemishes like skin tags, moles, red veins, and warts. The professional staff at About Face will have you feeling at ease in no time. During your visit to the clinic for a procedure you will be relaxed and well cared for, and you will leave with more confidence and a smile on your face.
Our permanent special offers are:
Electrolysis 10% off a block of 10 sessions of any length
IPL 6 treatments for the price of 5 [equivalent to 20% discount]
Facials – 10% off a course of 4 or 6 of our facials.
---
Offers & Promotions
Offer valid between 01-04-2020 and 31-10-2020
Electrolysis 10% off a block of 10 sessions IPL 6 treatments for the price of 5 Facials – 10% off a course of 4 or 6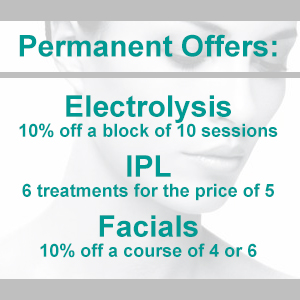 Find More Offers & Promotions