Atholl Palace Hotel

Atholl Palace Hotel is located in the historic town of Pitclochry. Not only does it stand overlooking the wooded parkland ground and surrounding hills, but you may even spot an endangered red squirrel in the vicinity. Of course, there's more to this hotel than simply wildlife, including its magnificent architecture. The building was originally opened as the Athole Hydropathic in the Victorian period, and retains many of the original features fused with contemporary and convenient facilities. The on-site museum and gardens make it an attractive destination for day visitors, as well as the luxurious spa which offers treatments to help you unwind. During your stay, choose from Turret suites, Feature rooms and Manor House rooms, all complete with stunning views to Ben y Vrackie. Atholl Palace lodges are also available, for when you're planning on self-catering in luxury accommodation: each one is individually designed, and located within the seclusion of the hotel's walled garden. Atholl Palace is also perfect for weddings and conferences, with a variety of function rooms that equally offer the ideal location for that special event. Just pop along to their next Wedding Fair to glean all the important details.
---
Offers & Promotions
Offer valid between 04-11-2018 and 30-04-2019
Banish those Winter Blues and beat the cold days. Stay with us and enjoy a 3 course candlelit dinner in the evening with a complimentary carafe of house wine. Then fill up with our famous Scottish breakfast.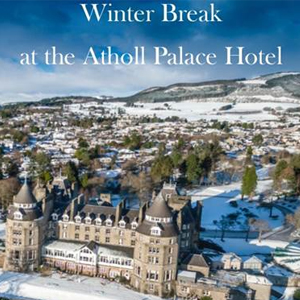 Find More Offers & Promotions