Frankie & Benny's - Falkirk

Frankie & Benny's is a hugely popular Italian restaurant chain that is prized on account of its delicious pasta and ice cream. Rightfully regarded as one of the cosiest family restaurant chains in the UK, its Falkirk branch is no different, with friendly staff who will go out of their way to ensure that your every wish is catered for. The menu is family-oriented, offering something to entice even the fussiest of eaters, from pizzas to burgers, steaks and salads. They also offer a Lighter Options Menu for those wishing tasty food with less calories. Seating is comfortable – and there's plenty of it – so large groups, families and parties are more than welcome. The interior of the restaurant is decorated in the typical style of an American diner and complimented with music from The Rat Pack Era it is warm and cosy; once you're seated, you may find it difficult to leave! They also have a fabulous range of cocktails available from the Bar for that perfect celebration. If you're dining with a group of people and are looking for a restaurant that will please everyone, Frankie & Benny's is a great choice.
---
Offers & Promotions
Offer valid between 01-04-2018 and 30-04-2019
Kids eat for £1. Sign up for offers online and download the app to claim this and other fantastic offers.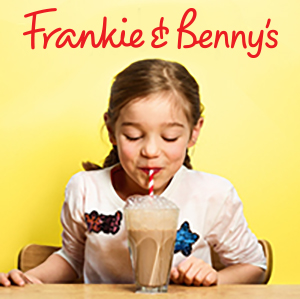 Find More Offers & Promotions